Dr. Jeff Hays
Dr. Jeffry Hays obtained a B.A. degree in Recreation Administration, with a minor in Physical Education from San Diego State University in 1984. He began working as a Personal Fitness Consultant shortly after and co-owned a successful personal training and fitness center in La Jolla for 5 years. His passion for exercise shifted to injury rehabilitation, and he sold his interest in the gym in 1992 to pursue a Doctorate in Chiropractic.
Dr. Hays attended the Los Angeles College of Chiropractic from 1993 to 1996. He built a successful personal fitness consulting business during this time, while consistently making the Dean's list as a Chiropractic student. He graduated from LACC in 1996, and moved back to San Diego.
Dr. Hays worked as an Associate with Donna Green, DC for the next four years, getting the opportunity to learn from one of the most highly skilled and gifted Chiropractors in the field. In 2000, Dr. Green retired from practice, and Dr. Hays stepped in to become sole owner of Sea View Chiropractic.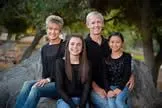 Dr. Hays is committed to providing themost state of the art, up to date treatment protocols in Chiropractic health care, while continuing to maintain his conviction and passion for exercise rehabilitation as a cornerstone for effective treatment and injury prevention. "We have a responsibility to teach our patients how to prevent that which we treat."
Dr. Hays has been married since 1992. His wife Cristen stays busy with their two daughters, Jayden and Jori (adopted from China in 2002) at their residence in Alpine.
---

Dr. Guy Carter
Dr. Carter has been practicing in San Diego since 1999, and has been at this current location since 2006.
He moved from Orange County California where he began practicing chiropractic upon graduating Cum Laude from Los Angeles College of Chiropractic in 1997. He did his undergrad work and received a BA from California State University at Fullerton. Dr. Carter incorporates basic stretches and exercises into all his treatment programs and is a proponent of "core strengthening" as a means to prevent and treat many spinal complaints. Dr. Carter also emphasizes spinal structure and biomechanics and the correction of problematic spinal curves to alleviate symptoms that may otherwise recur. Both patient satisfaction and education are very important to Dr. Carter and all efforts are made to keep standards high and to make education a priority. Dr. Carter enjoys golf, surfing, and volleyball and has played in tournaments and taken part in many events since moving to San Diego. He also enjoys camping, mountain biking, and hiking.
---
Dr. David Huynh
David Huynh joined our Health Center in June of 2010. He graduated from Southern California University of Health Sciences with a Doctorate in Chiropractic and completed his undergraduate studies at the University of California, San Diego with a Bachelor's Degree in Neuroscience and Physiology and minors in Music and Economics. He was born in North Hollywood, CA.
Before embarking in a career within chiropractic, he worked in the biotech/pharmaceutical industry with Pfizer, Idun Pharmaceuticals, and TargeGen in La Jolla, CA. Within the pharmaceutical field, he was tasked with assisting in the regulatory and quality of drug approval with the FDA (Food and Drug Administration) and to make sure that they are a safe process.
Dr. Huynh believes that the health of your spine and musculoskeletal system is an integral part in maintaining the body's overall function and incorporates a number of modalities into his treatment including chiropractic manipulation, physiotherapies, and proper physical rehabilitation including exercises and stretches. He stresses the importance of proper ergonomics in the workplace, nutrition, and exercise. His focus lies in rehabilitation of patients injured in motor vehicle accidents and or personal injury accidents. He truly believes that the level of care we give to personal injury patients are highest anywhere.
Outside of the office, he enjoys time with his wife, son, family and friends. He is an avid Lakers and Dodgers fan and enjoys playing and watching sports, traveling, a great restaurant, cars, and music.