1 on 1 Stretch Therapy is a 30 minute stretching session in which the client is stretched by a Trainer.  Client and Trainer together go through various stretching exercises, covering the whole body, and/or the clients specific areas of need.  Various techniques are used to maximize the stretching benefit, including:
Reciprocal Inhibition

Post Contraction

Active Myofascial Release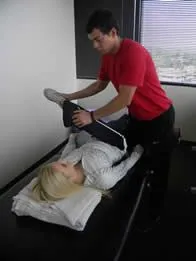 Benefits
The benefits of stretching are well documented.
Increased Flexibility
Increased range of motion
Decreased muscle tension
Improved muscle strength and overall function
Improved Posture
Improved muscle balance
Improved balance
Injury Treatment
Injury Prevention